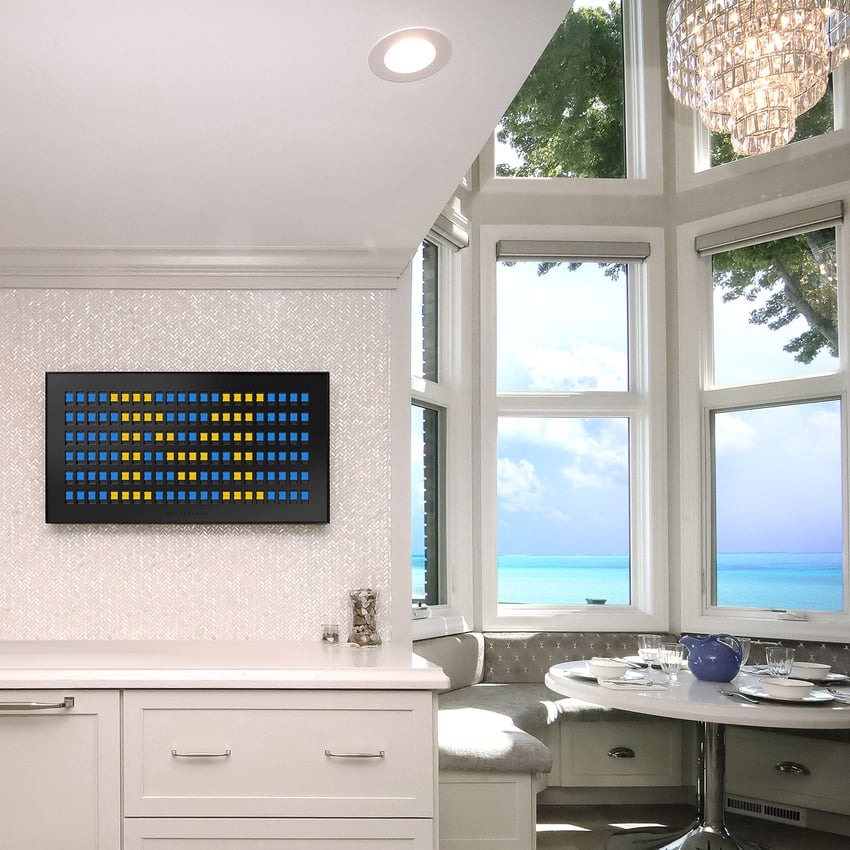 Customer Elizabeth Von Allmen of Holly, Michigan, had her family Vestaboard installed in their lakeside home which was newly rebuilt to make it exactly as they'd dreamed of. She says her husband is a "total tech guy," and after watching a video of Vestaboard he was captivated. "Just ordering one wasn't enough – he wanted to be a part of it. That's when we decided to invest in the company," says Elizabeth.

The Von Allmen's kitchen Vestaboard helps bring the family together. They enjoy displaying inspiring quotes, artistic patterns, and various channels of Vestaboard+.

"We use Vestaboard for all sorts of things. I love making personal messages for our guests," explains Elizabeth. "When a guest walks through the front door, and walks into the open kitchen they are greeted with a personalized welcome message. So far, all of our guests have noticed their personalized welcome even before they notice the beautiful view of Lake Huron! That's a pretty powerful statement, because the view is fantastic."

Other Vestaboard+ channels the Von Allmen's and their children enjoy include sports scores, Magic 8 Ball, Game of Thrones quotes, Taylor Swift lyrics, and the heat map of the United States that represents the actual temperature of each region based on colors (white = very cold, for example). "I love that there are more and more things to display on Vestaboard every time I look at the app," she says. With over 200 channels now on Vestaboard+, even more are added weekly.

"Last school year, our son was learning the state capitals in school and it was super fun to have those flash on the Vestaboard. I'm looking forward to using the Periodic Table option when he starts learning those."

Elizabeth likes getting creative with Vestaboard, too, like designing thematic messages for holidays, and displaying a blue and yellow "M" representing Michigan as they're huge football fans.

"We use Vestaboard in many different ways every day. Plus, it's just fun!"

When it comes to the location of the Von Allmen's Vestaboard, Elizabeth says, ​​"We thought a lot about where to put the Vestaboard in the beach house. The house was going to be used for big family and friends events, so we wanted the Vestaboard to be used as a welcoming and informational tool. After much thought and deliberation, we decided to give prime kitchen wall space to the Vestaboard. We then designed the entire kitchen around the Vestaboard. It was really a fun process and our contractor was completely surprised! When the house was still under construction and Vestaboard was installed, I would send the contractors messages on the board from my house 90 miles away. They loved that!"

Learn more about investing in Vestaboard.