Our goal is to build an extraordinary company with products that help our customers to inspire others.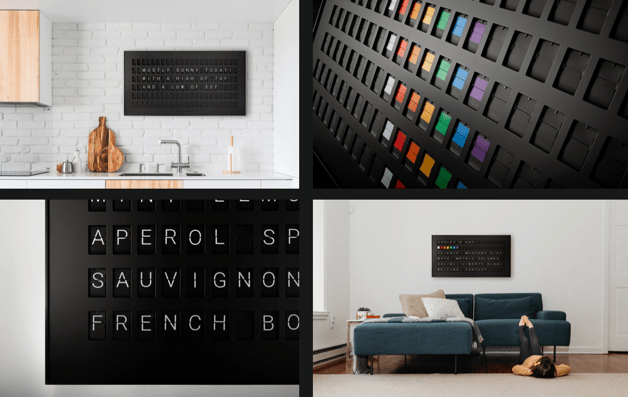 Vestaboard is a smart messaging display used by our customers to inspire their loved ones, team members, customers and guests.
Vestaboard is not a digital screen but relies on its own patented version of split-flap technology to land its 8,448 character flaps on the right message at the right time. It creates a mesmerizing and memorable experience for its owners and the people they seek to inspire.
We have a three-part plan to build an extraordinary company:
We will scale our $5.9 million in sales of our flagship product into a forecasted $6.6 billion smart display market, differentiated by its design and software features
We'll continue to develop the software that powers Vestaboard and build a recurring revenue stream
We'll launch additional messaging related devices that are lower-priced and that rely on our software and developer platform
Vestaboard began mass production in November 2020, realized $5.9 million in pre-orders and began shipping.
We completed the sale of 3,000 of our Founding Edition units through November 2020. Customers worldwide are now receiving their Vestaboard deliveries to their homes and workplaces. Vestaboard expects to ship all of its 3,000 Founding Edition units between now and Spring 2021 and then begin delivering on new orders we are accepting now.
Your investment would be part of a Series Seed Preferred Stock financing, of which $3.8 million has recently been closed.
Participants in the Series Seed Preferred Stock financing include Alfa Insurance, Base Ventures, Baroda Ventures and seasoned individual technology investors including Hany Nada (board member at Houzz and DraftKings) and Bob Abbott (former General Partner at Norwest Venture Partners), as well as many of Vestaboard's customers.
Learn more about how the investing public can invest between $500 and $25,000 →
Learn more as an Accredited Investor investing $25,000 or more →
Visit our home page to learn more about our flagship product →