Invest in Vestaboard
We plan to build an extraordinary company with products that help our customers inspire others.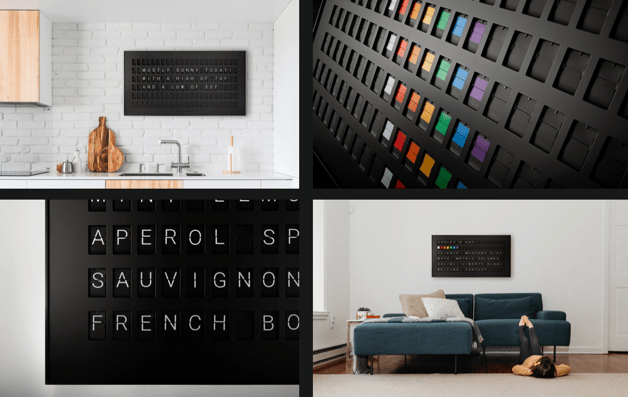 Vestaboard is a smart messaging display used by our customers to inspire loved ones, team members and guests.
Vestaboard relies on a patented version of split-flap technology to land 8,448 character flaps on the right message. It creates a mesmerizing experience for quotes, to-do-lists, calendar items, news and sports scores. Vestaboard has broad applicability in work settings (hospitality, real estate, retail, healthcare and offices), and is enjoyed at home by customers such as Jennifer Garner and Alexis Ohanian.
We have a three-part plan to build an extraordinary company:
Scale our flagship product into the forecasted $6.6 billion smart display market, differentiated by design and software
Build a recurring revenue stream with valuable software features
Launch less expensive devices that rely on our software platform
We are now shipping Vestaboard.
We completed a pre-order of 3,000 of our Founding Edition displays in September 2021, representing approximately $6m in pre-order sales. We will continue to deliver new back-ordered displays through the remainder of the year. Vestaboard is currently available for sale on our website, through our direct selling team, and at the MoMA Design Store, selling now for 2022 delivery. We are also building a larger network of resellers.
We are offering Series Seed Preferred Stock to accredited investors, of which $3.85 million has been closed.
We recently closed our offering to the investing public in which we raised over $300,000. If you are an accredited investor interested in investing $25,000 or more please inquire below.