Invest in Vestaboard
We plan to build an extraordinary company with products that help our customers inspire others.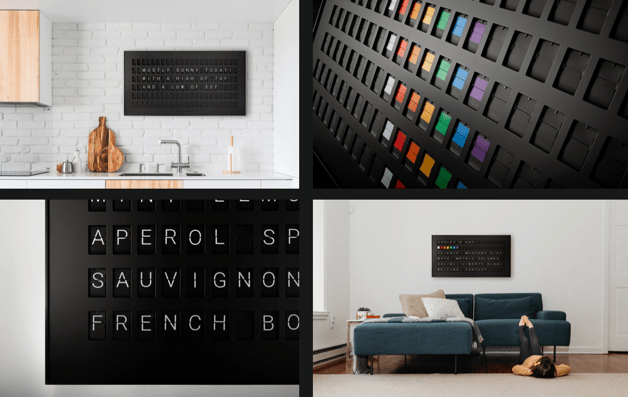 Vestaboard is a smart messaging display used by our customers to inspire loved ones, team members and guests.
It's art, organization and inspiration in a single frame.
Vestaboard is a smart messaging display that relies on a patented version of split-flap technology to land 8,448 character flaps on the right message. ​​Vestaboard can be controlled from anywhere through a mobile and web app to allow users to customize their messages.
Our product has broad applicability in work settings (hospitality, real estate, retail, healthcare and offices), and is enjoyed at home by many customers, including Jennifer Garner, Neil Patrick Harris and Alexis Ohanian.
We have a three-part plan to build an extraordinary company:
Scale our flagship product into the forecasted $6.6 billion smart display market, differentiated by design and software
Grow our recurring revenue by continuing to build valuable and inspiring content on Vestaboard+
Launch a second more affordable messaging display to scale our customer base and our recurring revenue via our subscription software platform


To learn more about our current financing offer, please inquire below.
Vestaboard is considering a Rule 506c offering and gauging interest in a regulation-CF offering. No money or any other form of compensation is being solicited. It will not be accepted if it is sent. There will be no acceptance of any offer to purchase securities. There are no obligations or commitments associated with any expression of interest.
Forms required to be filed by the SEC: