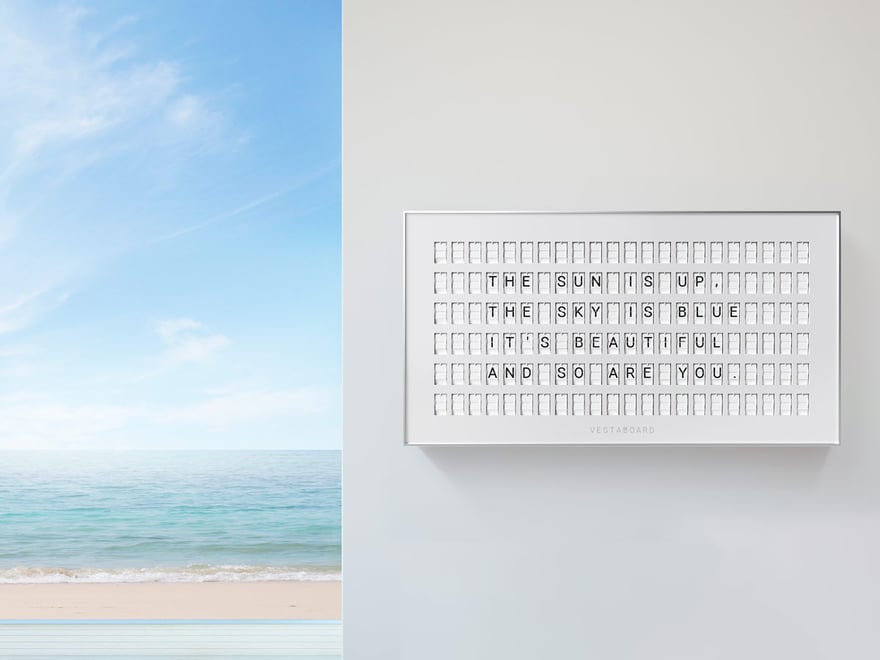 Vestaboard is set to preview Vestaboard White to the trade community this weekend at the world-renowned trade show, High Point Market in North Carolina. Guests can interact with Vestaboard at an immersive experience hosted by StyleRow, a private kickoff party, and our own exhibit at the Suites at Market Square M-8011. You can view our press release below, visit our High Point page, and learn more about our Trade Program.
PRESS RELEASE
---

StyleRow teams up with Vestaboard to create an immersive experience at High Point Market
The two brands collaborate to offer the ultimate Instagrammable moment for High Point attendees
HIGH POINT - OCTOBER 2022 - StyleRow today announced it has teamed up with Vestaboard to present "Innovative in Ivory," an immersive experience offered exclusively at High Point Market. The experience showcases the debut of Vestaboard White available to be seen publicly for the first time at High Point; Vestaboard's fresh take on its flagship messaging display will be available for sale to the public on November 4th.
"StyleRow offers an innovative discovery platform for the trade community, and we seek to collaborate with inventive companies that create products that set our clientele apart. Vestaboard, a brand that combines innovative design and technology to create a beautiful and functional display, was among our first choice partners for this event," remarked StyleRow Founder and CEO Erinn Valencich.
StyleRow hand-selected partners to create a series of captivating immersive experiences for High Point visitors. At the Vestaboard experience, guests can send messages instantaneously to the stunning new Vestaboard White by choosing from a curated set of messages for the High Point trade community, crafting their own messages or designs, or discovering options from the vast selection of content available on Vestaboard+, the brand's optional software.
"Vestaboard is excited to preview Vestaboard White to the trade community at our first High Point Market, and we are delighted to be among the few brands working with StyleRow. It is an honor to be recognized for our innovation, design and functionality," commented Vestaboard Founder and CEO Dorrian Porter.
The two brands invite High Point guests to a kick-off event on October 21st at 4:30 pm at Center Stage. Vestaboard is also offering personalized demos at its exhibit at the Suites at Market Square M-8011.
ABOUT VESTABOARD, INC.
Vestaboard was made to help people inspire each other – a sleek design, users can send any message at any time from anywhere. Vestaboard's 8,448 flaps flutter to create a welcomed, mesmerizing sound and encourages people to look up. An experience that combines both the visual and auditory senses, Vestaboard's concept is unlike any other form of electronic communication as it offers focused, high-visibility messaging that brings people together and creates more inspiring environments. Vestaboard+, the brand's optional software subscription, enables owners to curate and automate content from a vast and growing library of channels. For more information about Vestaboard, please visit vestaboard.com or contact Kristin@vestaboard.com.
MEDIA CONTACT
Shira Berg | Autumn Communications
vestaboard@autumncommunications.com
Learn more about our trade program here.