Vestaboard, a smart messaging display designed to connect and inspire people, has closed the first round of a $3.7 million seed financing; the Company is raising an additional $750,000 from accredited investors in a second and final closing.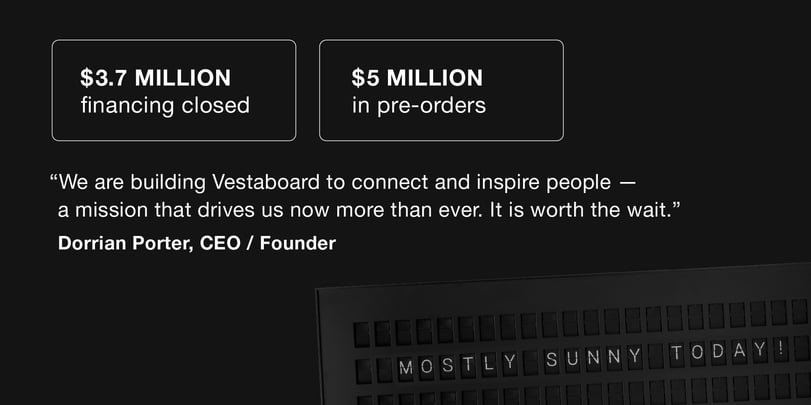 Participants in the financing include seasoned technology investors who were also early investors, such as Hany Nada (board member at Houzz and DraftKings), Bob Abbott (former General Partner at Norwest Venture Partners) and Baroda Ventures (David Bohnett), as well as many of our wonderful customers.
The Company will use the funds to expedite mass production and expects to ship 3,000 limited edition, specially inscribed "Founding Edition 2020" units between October 2020 and Spring 2021. Vestaboard has crossed $5 million in pre-orders the first week of September.
The Company has started delivery of Vestaboard to some of its earliest customers. Take a look.
Dorrian Porter is the founder and CEO of Vestaboard. Steve Zadesky, who led and built the teams at Apple for the first iPod, first iPhone, and hundreds of Apple accessory products, is an advisor to the CEO. The design and engineering team members behind Vestaboard helped launch products such as the Amazon Echo and Nest.
Vestaboard intends to close an additional $750,000 through a regulated investment offering in a second and final closing. Learn more and request more information.