View the full video replay or read the highlights from yesterday's Live Event hosted by our CEO / Founder Dorrian Porter. Discover the design and production of Vestaboard, behind-the-scenes stories, our shipping schedule, and much more.
LIVE EVENT RECAP
On June 9th, 2020, Dorrian presented Vestaboard's first ever live virtual demo worldwide from our San Francisco office. He thanked everyone for joining, especially the Founding Customers and Customers.
Dorrian informed us of the idea behind Vestaboard -- displaying unique, inspiring quotes on his kids' walls every day. He knew the vintage split-flap technology he'd seen in Parisian train station Gare Du Nord would be the perfect solution.
We live in a time of an overload of screens, scrolling and notifications, but Vestaboard is a way to keep us looking up by putting shared messages front and center. Vestaboard is designed to help creative leaders inspire others. It is astonishing how much you can create with just 26 letters, 10 numbers, punctuation, and 8 colors!
Learn all about our product, team, company, and much more below. Check out the list of video highlights at the end of the post.

This is Dorrian's daughter's real calendar of the day. Due to shelter-in-place he brought a Vestaboard home from the office. His family has loved it!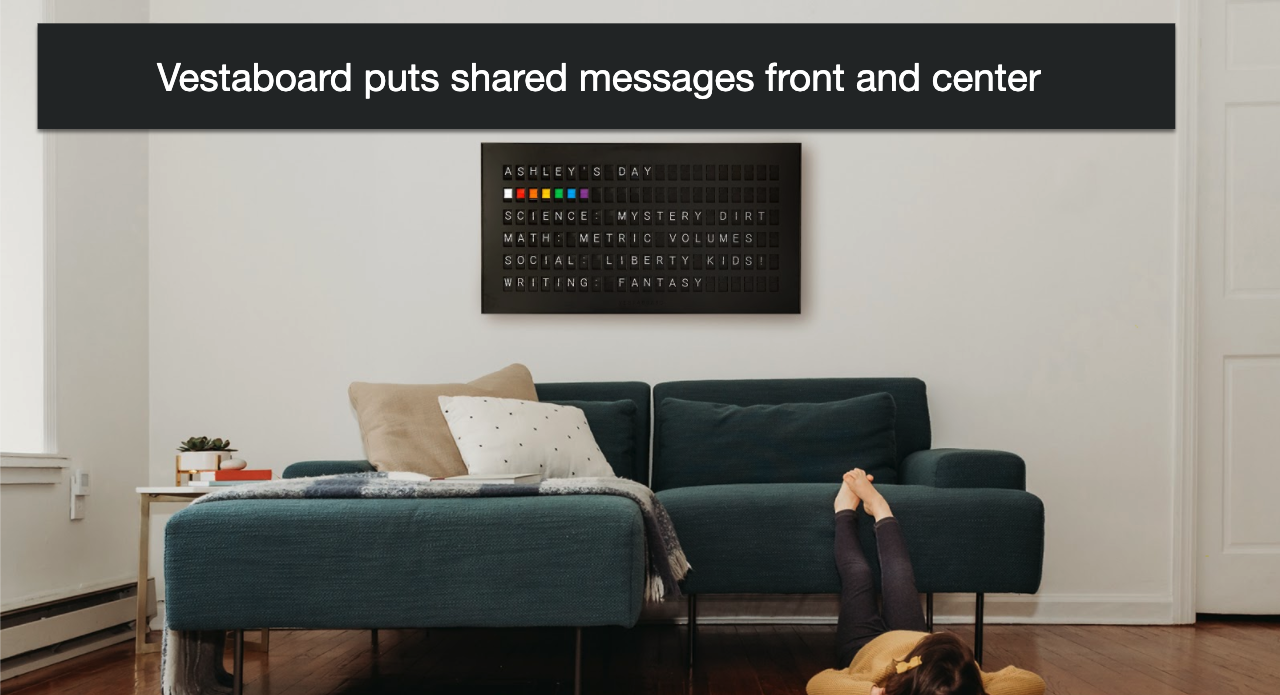 Meet Dorrian! Dorrian is so dedicated to bringing Vestaboard to life.
He did take a moment along the way to share with us one personal fun fact: he loves the Beatles. (Note the shirt.)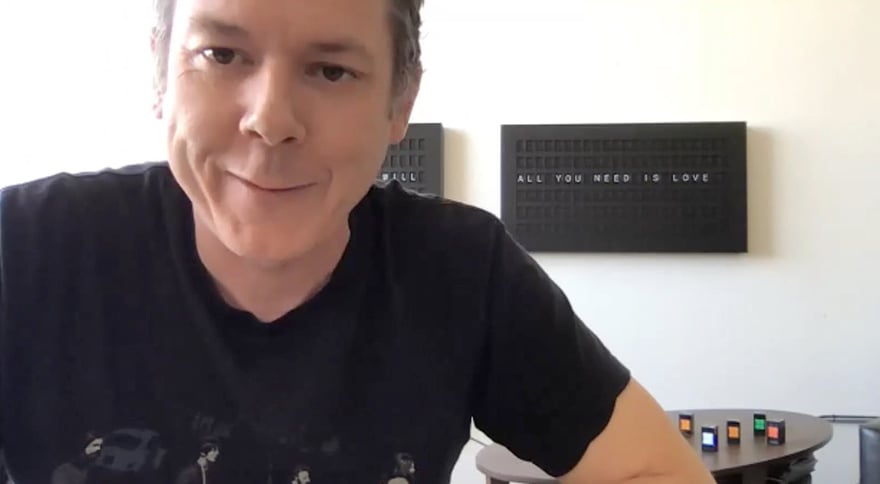 But it takes more than Dorrian to get your Vestaboard to you! Our industrial design partner Bould Design has been with us since our earliest sets of renderings. Watch the video:
Another important part of our crew is Ian Guyer, head of Asia Pacific Operations. He's helped Vestaboard in numerous ways since the company's inception in 2015. Below, he holds the light for our first video shoot.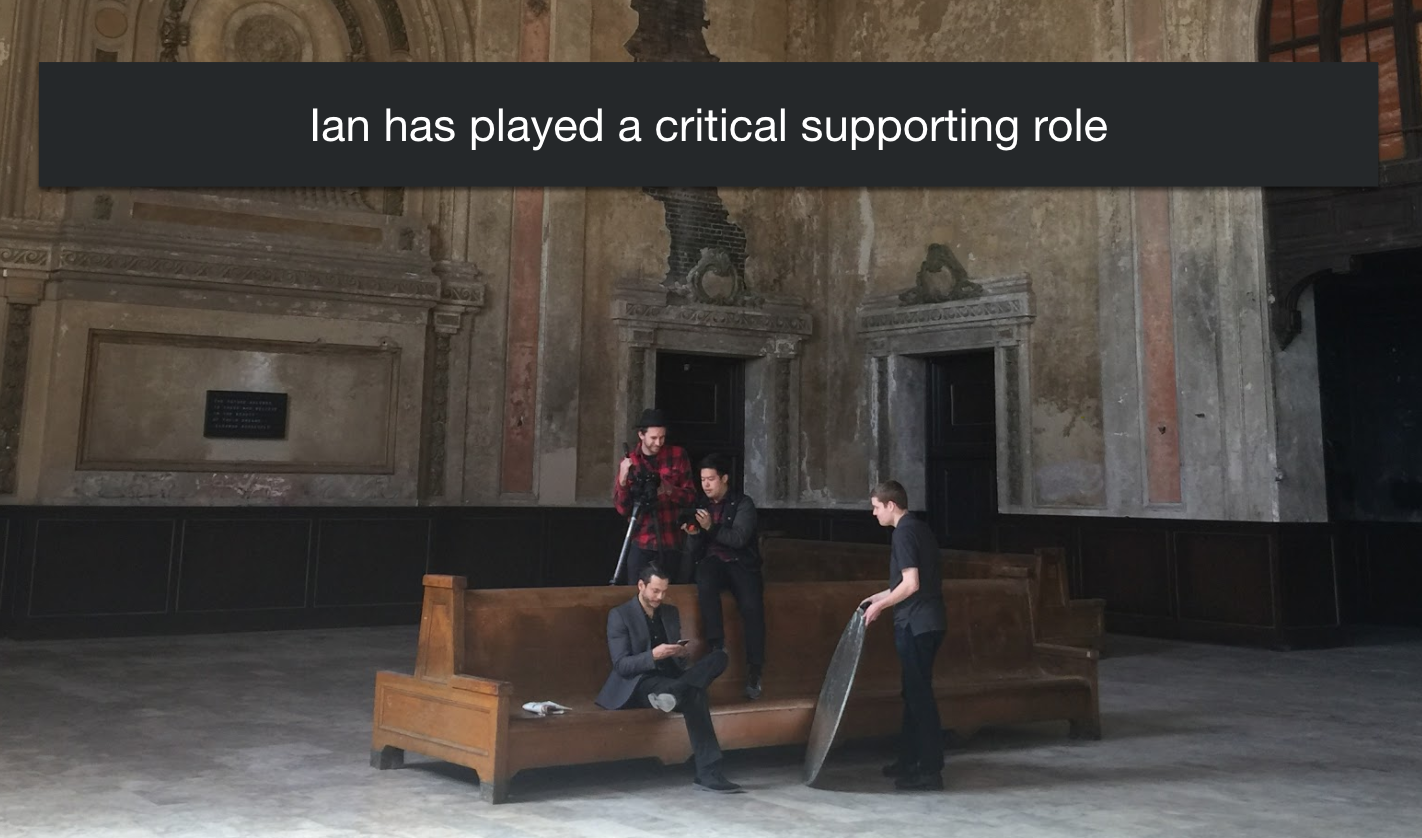 Now, Ian has spent a lot of time overseas, keeping the factory on track! (In the black tee)
Our newest team members are Aaron and Mark, who work with Theresa on Customer Delivery and Support. Learn more about the team in our recent News post.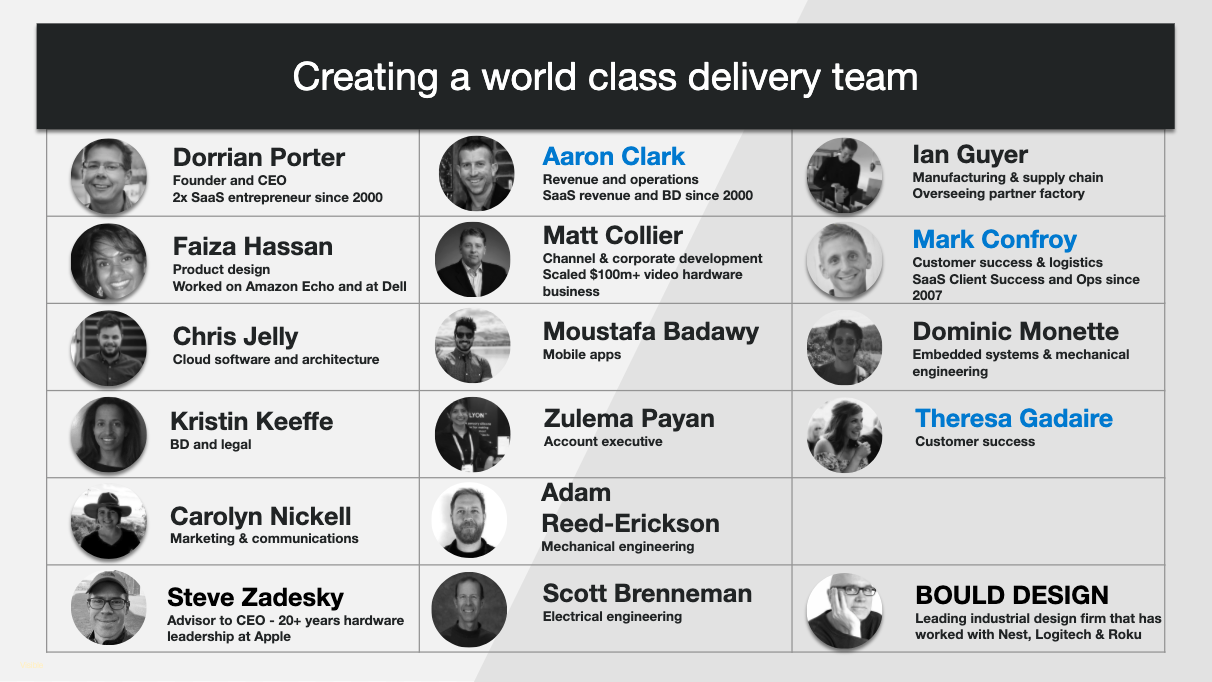 It's been a journey to make Vestaboard a reality. Our team and customers have been with us every step of the way. Dorrian previewed a digital-screen concept prototype of Vestaboard and a working mechanical Bit prototype onstage in 2018.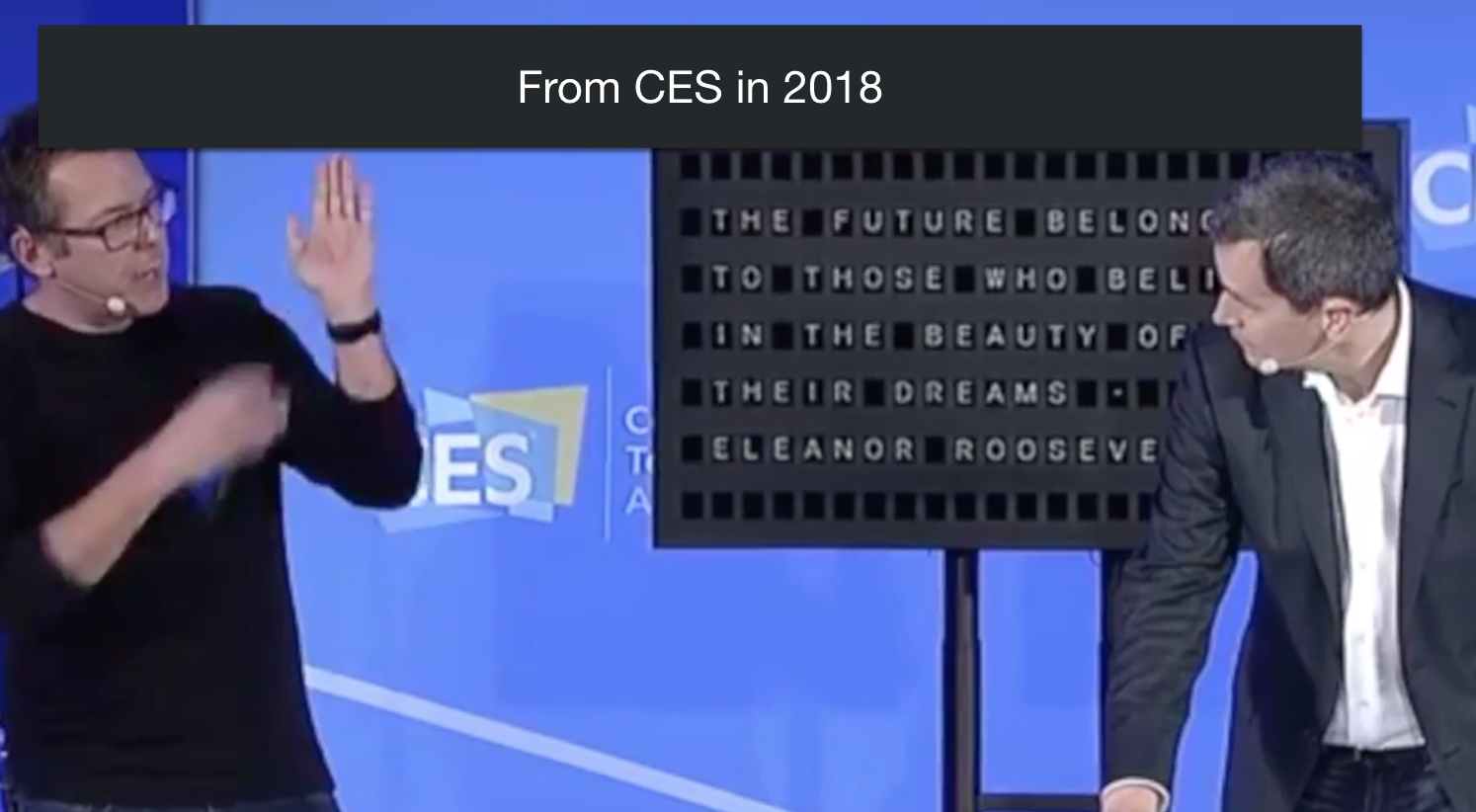 How many Bits make up a Vestaboard? 132! Bits are modular for easy replacement and maintenance, no tools required. Look at some of the early iterations of our Bit. You can see the tape, wires, heavy metals...

When we finally arrived at the mass-produced, factory-perfect Bit, we were overjoyed. Should they break, Bits are easy to replace.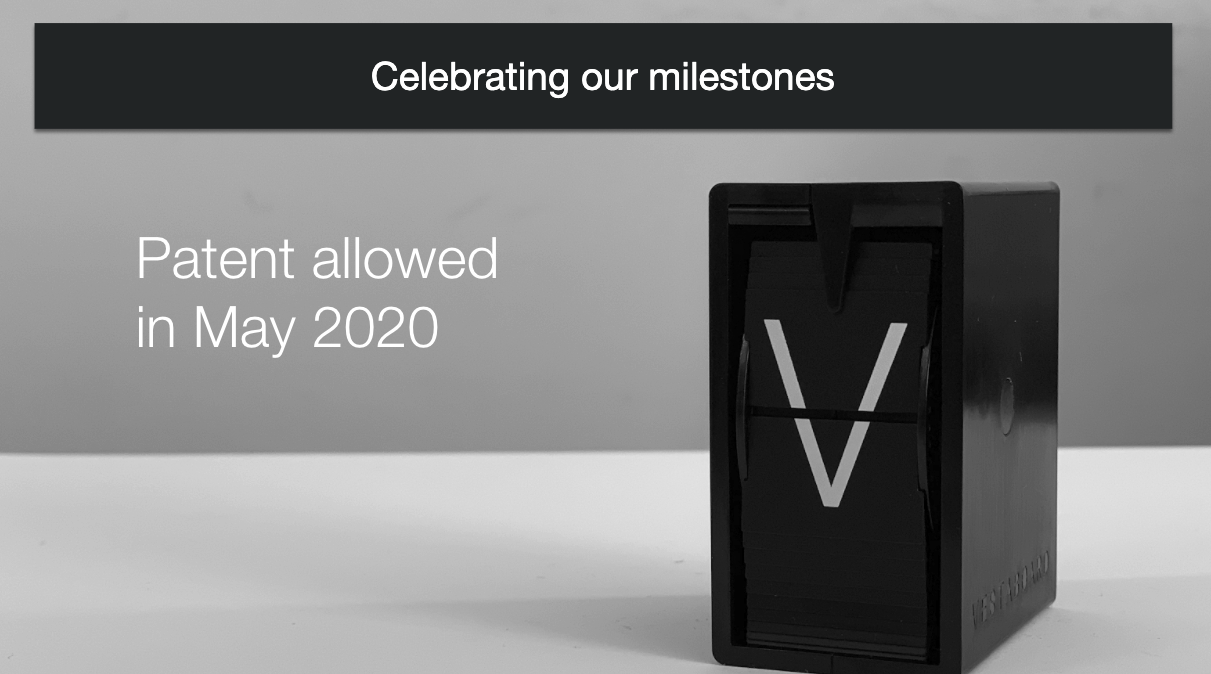 Each Vestaboard is made up of the black PCB backplane, the modular character unit Bits, the front frame / mask, and the wall plate to hang your unit.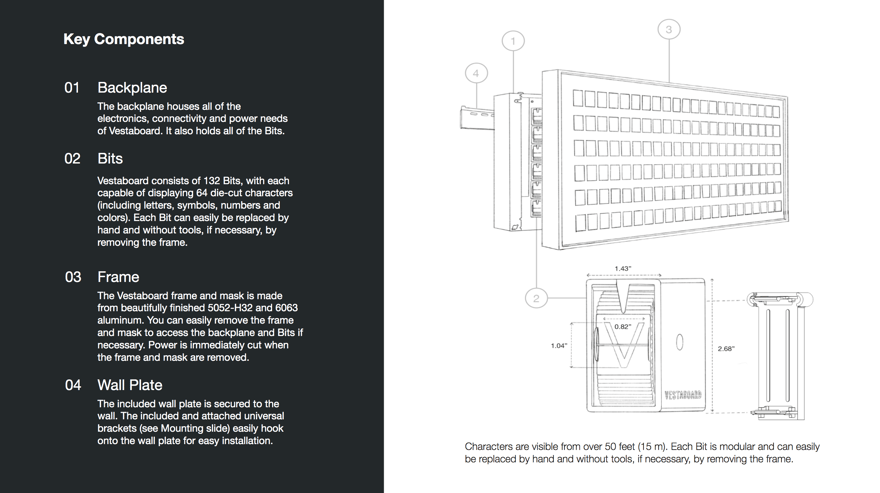 We've thought through every single detail of Vestaboard. Vetting the materials, suppliers, and iterating along the way took everyone's deepest consideration and advice. For example, we tried various types of glass -- but due to glare, weight, fragility, and appearance, we decided against it. Below, Fred Bould evaluates the glare on the glass.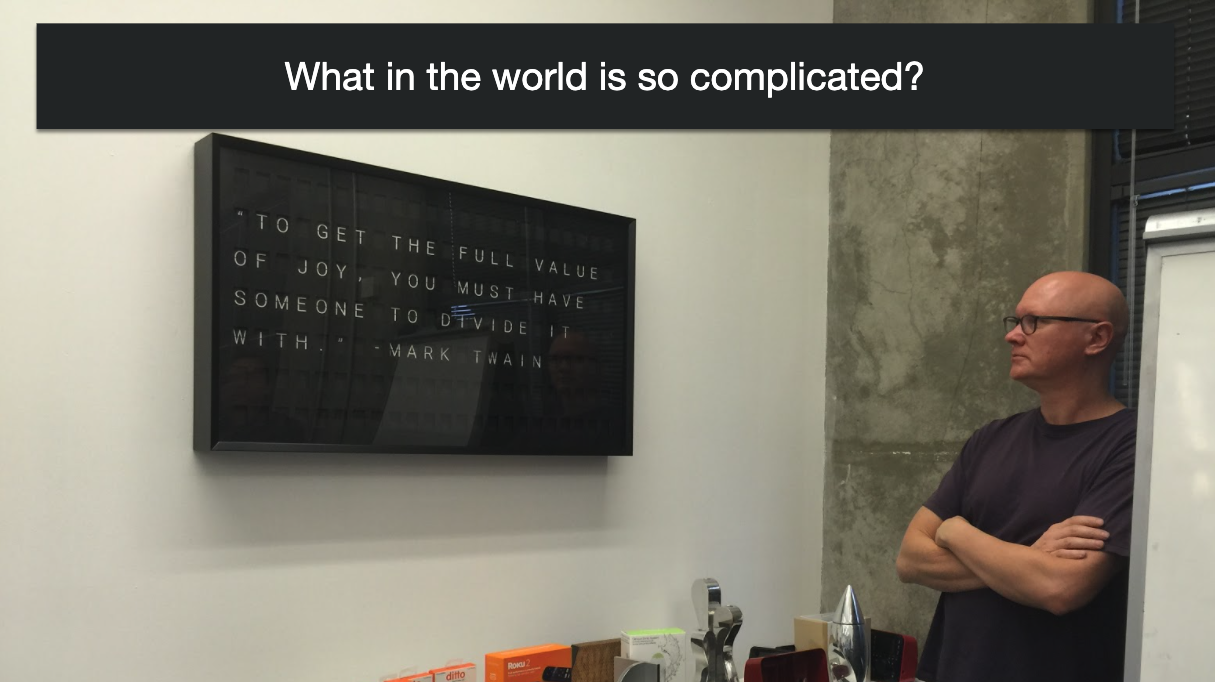 We know it's taken a while to produce Vestaboard. But it is complicated. If 132 Bits go in a Vestaboard, all of which attach to the gorgeous black PCB backplane as seen below, guess how many parts go in each Vestaboard?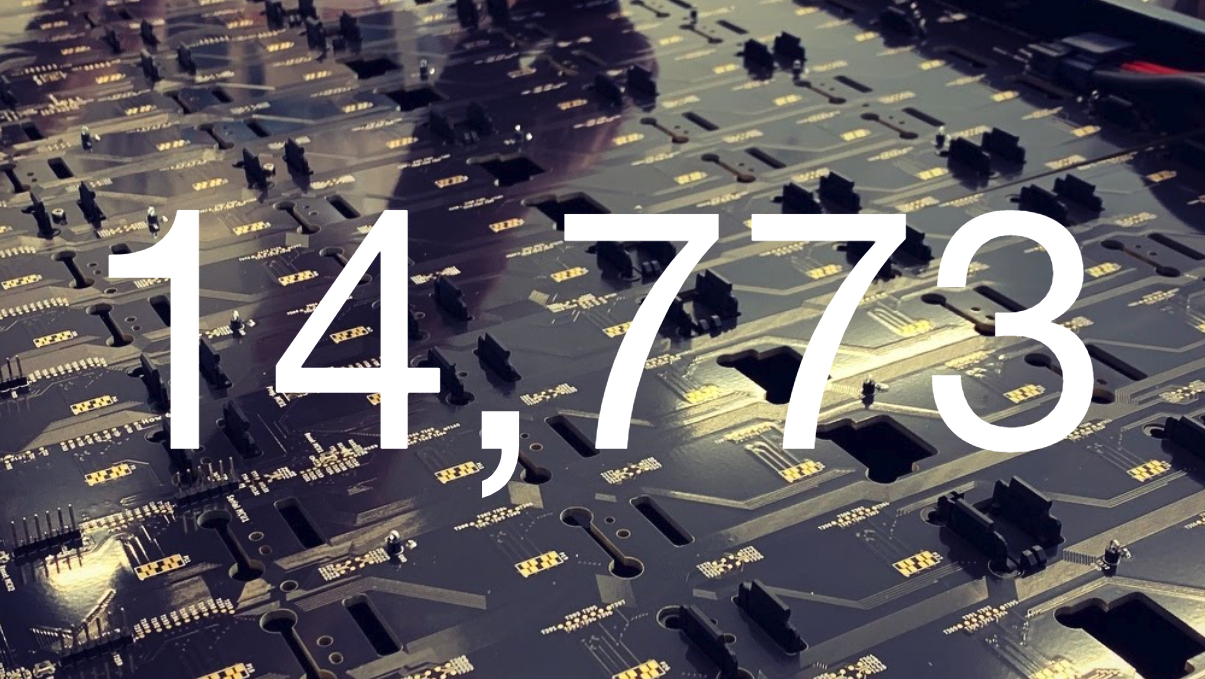 Many companies are hardware or software, but as an IoT product, we are doing both. Our app will be available on the web, and on iOS and Android.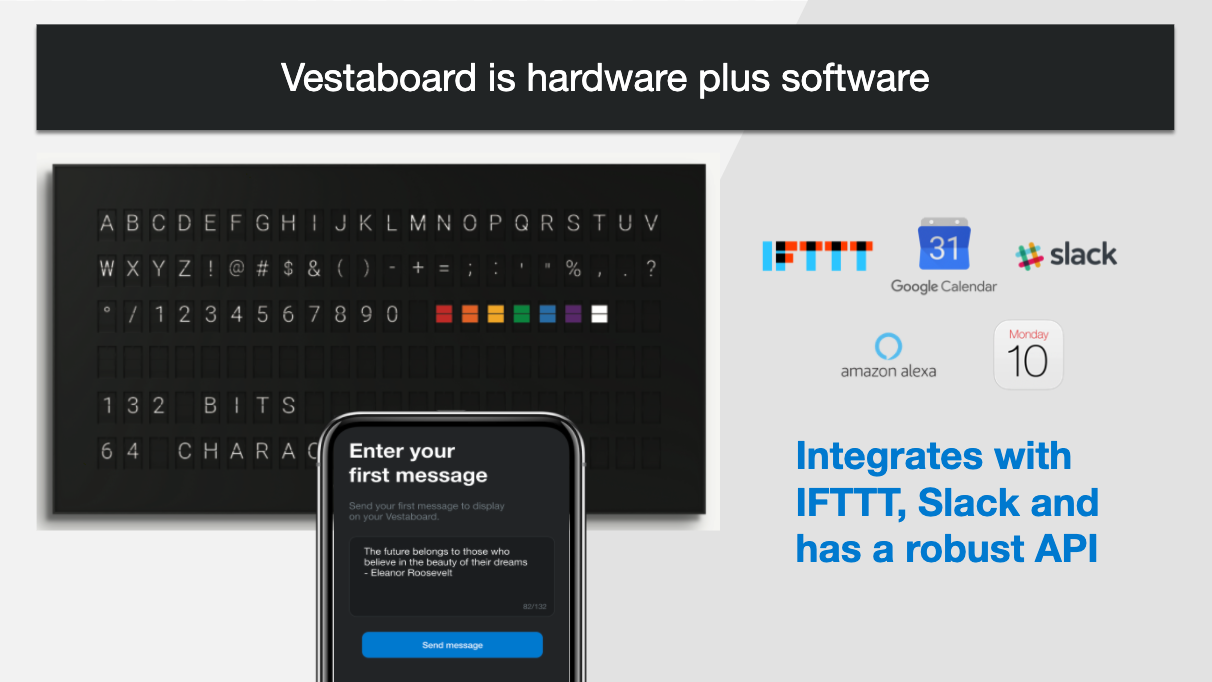 Our visual editor lets you draw vibrant patterns of colors. It's easy to load your saved patterns and messages. You can even keep your favorite messages in a special list.

You can also type into each Bit by clicking and combine this with colors. If you enter your message in plain text, we automatically format it for you so it displays beautifully. For even more control, developers can build anything you can dream of on our API.

Some statistics about our Company.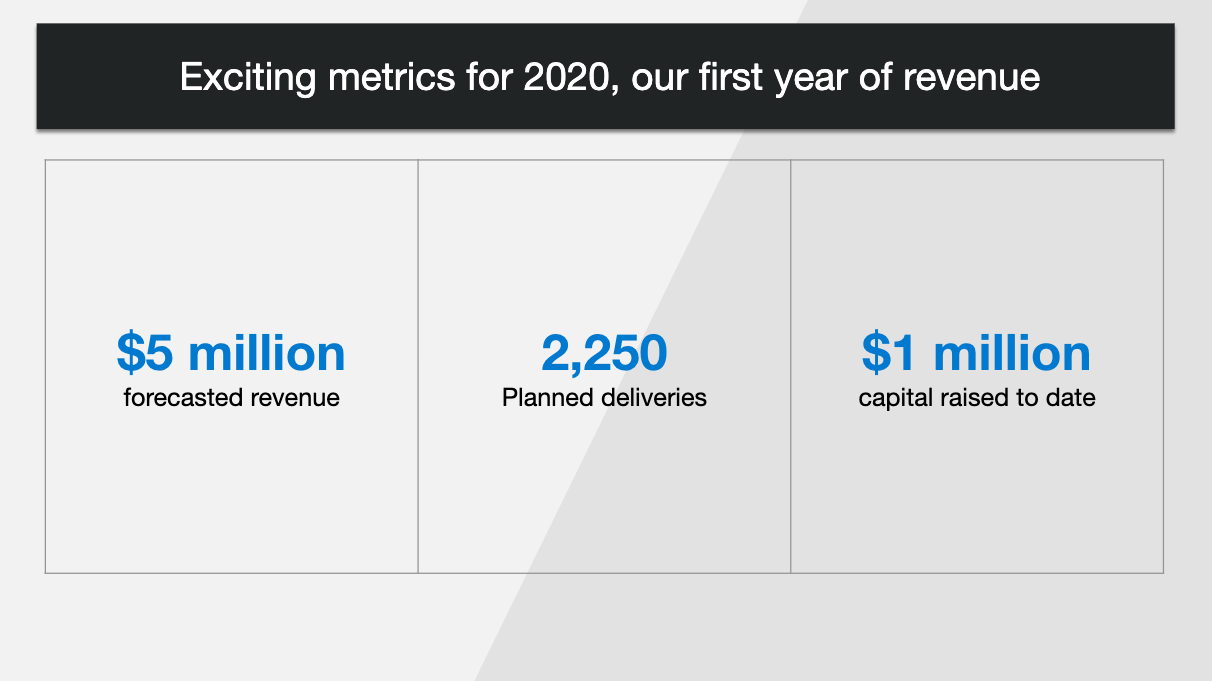 Our community of customers from around the world are incredible people. We are so grateful.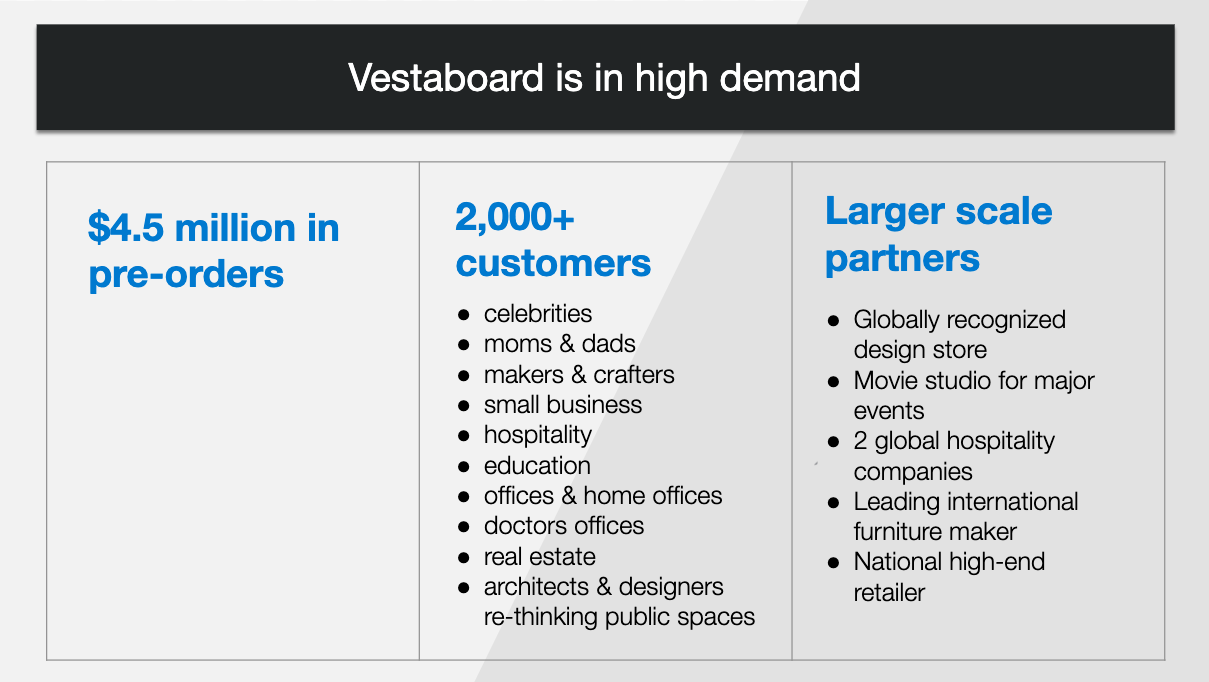 This month marks our first customer deliveries! They'll ship very shortly.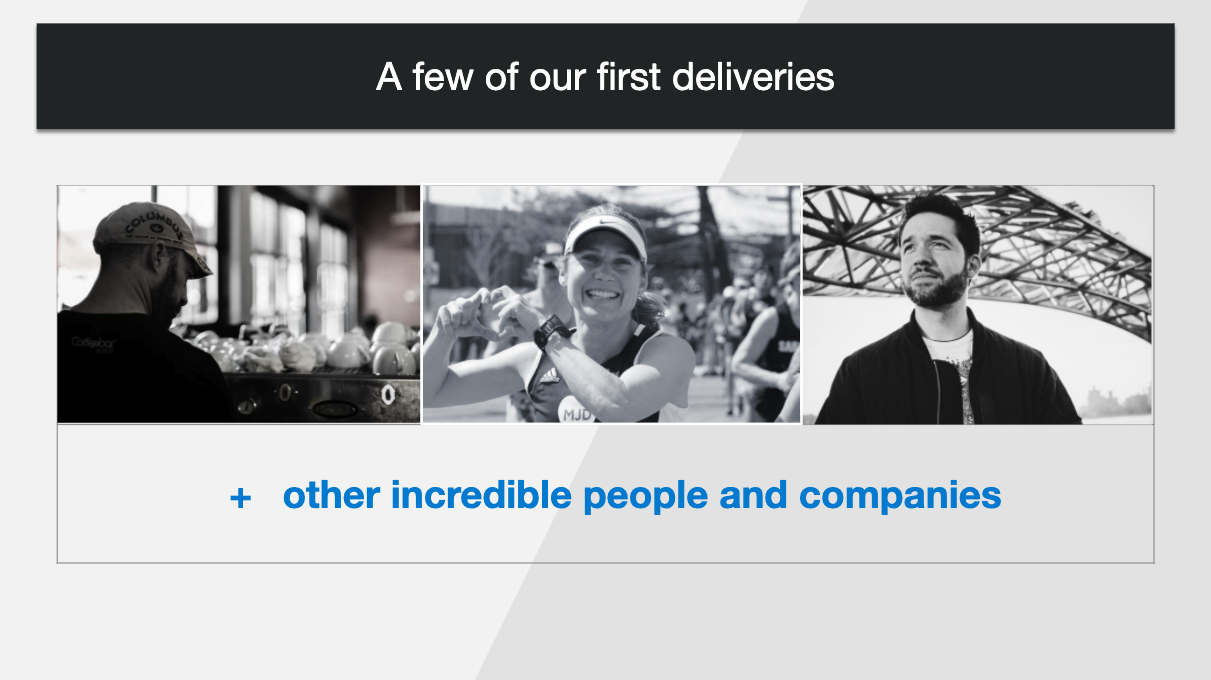 Here's what's next for most of our Customers:
More details on the production, shipping and delivery schedule are coming in the Customer Q&A on Friday, June 26th. Customers please save the date.
We understand how long it's taken to bring our product to market. The last thing we want to share is more delays. But this year brought COVID-19, and a 3-4 months holdup with our suppliers and production.
But even so, we have arranged to make 750 units per month rather than our previously estimated 500 units. Therefore, even with the COVID-19 delay, we expect to have 100% of customer orders delivered this Fall 2020.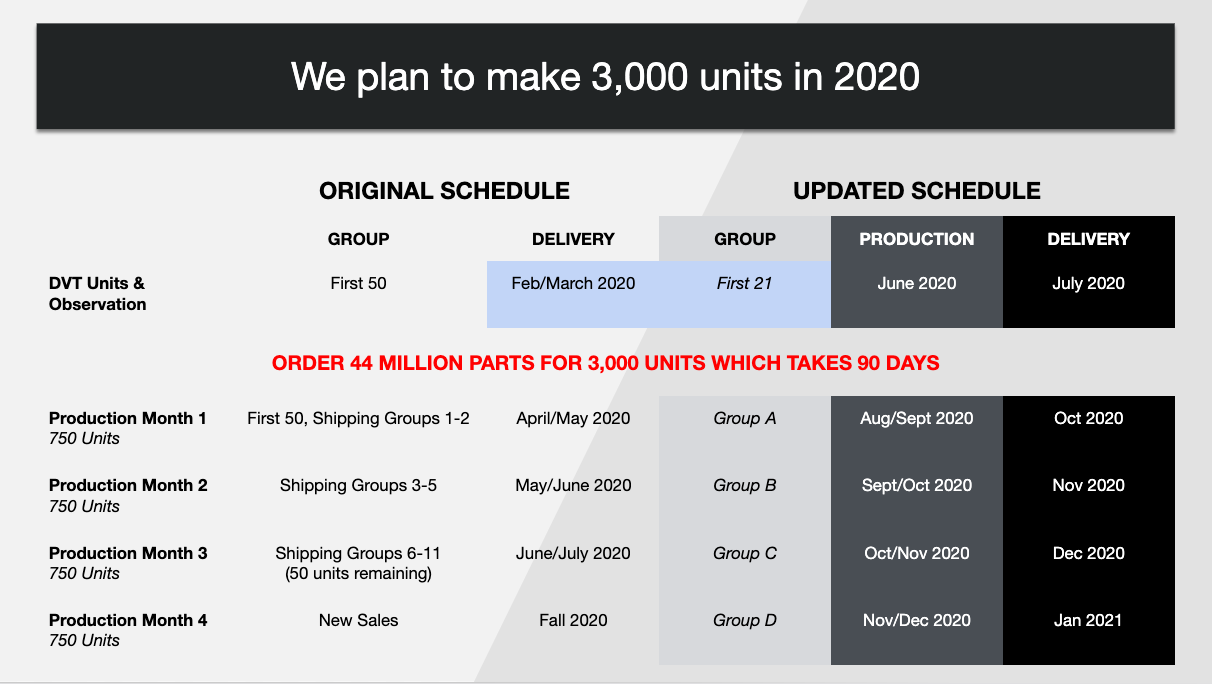 After 4 years of R&D, and so many hurdles to get ready for mass-production, the time for Vestaboard is here at last. Thank you for your enthusiasm as we reach this exciting phase in Vestaboard's journey.
Thank you for enjoying our recap of today's livestream. Here's what you can do next:
We'd love for you to sign up for the waitlist if you're interested in a unit for 2020 delivery.
If you're a customer, please fill in the customer survey coming this week via email.
Reach out if you have any awesome ideas for Vestaboard!
And in the meantime, follow us on Instagram and Twitter @vestaboard. Feel free to share and tag us!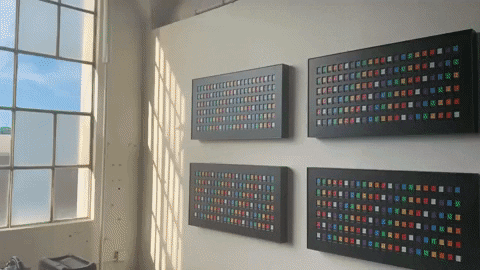 If you haven't watched our Marshall McLuhan video yet, this is how Dorrian wrapped up today's presentation. As a fellow Canadian captivated by technology, our CEO Dorrian has always been intrigued by McLuhan's philosophies. Enjoy!
---
Thank you for coming to Vestaboard's first Live Event
CREDITS
Founding Customers
Customers
Supporters
Vestaboard Team
Our hosts Dorrian (and Theresa!)
Advisors
everyone who has helped create Vestaboard
Bould Design
Chen Design
REPLAY HIGHLIGHTS
1:52 Vestaboard's inspiration
3:49 CES 2018
4:39 Team
8:31 Specs and Bits
11:14 Bits and Vestaboard Demo
12:52 Software Explanation and Demo
20:45 Visual Editor Demo
22:34 API
24:09 Publish Your Vestaboard on the web
24:51 Integrations and recurring messages
27:09 Shipping, production, delivery schedule
40:40 About the Company
43:46 The Medium Is the Message
45:30 6 Vestaboard video
46:03 Bould Industrial Design video