Production has begun! Our specially inscribed, nearly sold-out "Founding Edition" is limited to 3,000 units. We are thrilled to share this milestone after years of R&D. Delivery of the 3,000 Founding Edition units will occur from now through May 2021.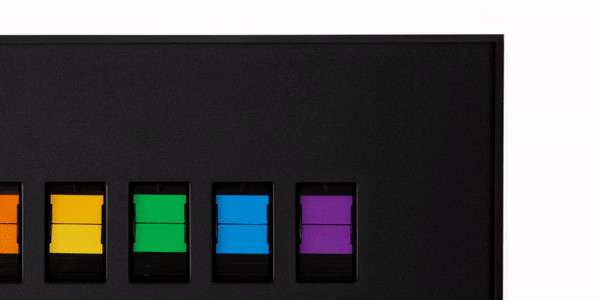 The Founding Edition emblem is hidden inside Vestaboard
We expect to produce 500 units per month. All Vestaboards produced this year will be specially inscribed "Founding Edition 2020". To reach this stage, we completed a robust R&D process including EVT and DVT phases and careful vetting of all materials.
We appreciate the patience of our customers as we have worked to ensure Vestaboard is beautiful and enduring. This summer, we delivered 21 beta units to some of our early customers including Jennifer Garner, Zach Braff, Alexis Ohanian, and more. Watch and enjoy their creative uses of Vestaboard.
Vestaboard is unique in that it is not a digital screen. Each Vestaboard uses 8,488 wonderfully spinning flaps to display its messages and art. The flaps show a custom-designed, highly legible font by Bould Design. Learn more about Bould here.
Our patent-pending latch mechanism and patented character units we call "Bits" (132 per Vestaboard) contributed to the engineering feat of Vestaboard. Our seasoned team of experts who have been with us since the start have also brought to market such products as Roku, Nest, and Amazon Alexa. Learn more about our team here.
You can control Vestaboard from anywhere using your mobile device. Our apps on iOS, Android, and cloud will be launching soon for customers. Our API is becoming available for developers; sign up here.