Happy New Year!

It was incredible to watch our customers use Vestaboard in so many inspiring ways in 2021 at home and at work. We can't wait to see even more use cases in 2022.

In 2021, we completed delivery of all 3,000 Founding Edition Vestaboard displays and received a number of awards, including a Red Dot Design Award for product design and a Gold Award at NeoCon, the world's most important commercial design event. We also launched Inspire Community, our giving program in which we donate one Vestaboard for every 100 sold. Vestaboard is now being used as a teaching tool for kids with special needs, adorning a museum, informing visitors at a food pantry, inspiring teens who are fighting cancer, welcoming kids in foster care and more. We'll be asking for more nominations from you soon.

We will begin to roll out Vestaboard+, our exciting new optional software, before the end of January. Vestaboard+ will transform the way you enjoy Vestaboard, opening a new world of automated content. You will be able to select from a diverse and growing library of channels, from the inspiring to the comedic to the educational. Vestaboard+ will enable you to sync Vestaboard with breaking news, weather, sports scores, now playing, calendar alerts, portfolio updates, and many applications. You'll also be able to create your own channel of content and share it with the Vestaboard community. Vestaboard+ will be priced at $95 per year, and we will be sending you a special offer as an early customer. Our core mobile app and the Vestaboard API will remain free to use with your Vestaboard, and we are committed to releasing a device API in 2022.

I'll also be reaching out to a few of our customers one-to-one in the coming weeks for a preview of a new product we may launch later this year. The Company performed well in 2021 and we believe the new product will add to our growth nicely in 2022. We will likely open a broader investment opportunity to our customers once again. If you would like to learn more about the investment opportunity, please let me know here.

In the meantime, I am confident you will enjoy your Vestaboard and the debut of Vestaboard+! Whether your Vestaboard inspires your children, brightens your home, is a focal point for your office or store, or serves another purpose entirely, we hope that Vestaboard will get the favorite people in your life looking up in 2022.

Thank you for your support and your trust in our team.
Dorrian Porter
CEO and Founder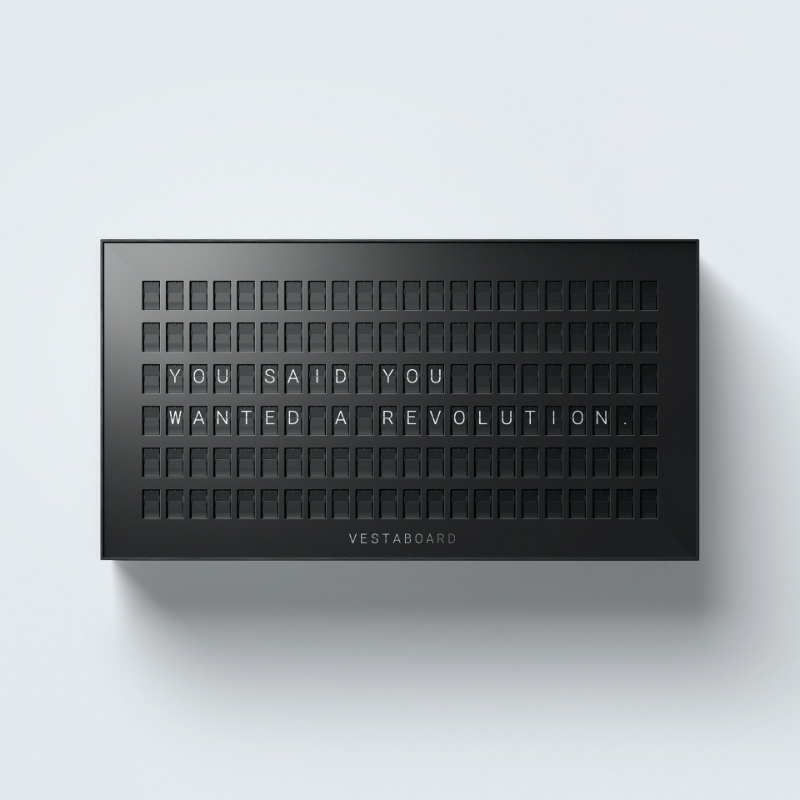 Above: The New York Times Magazine featured Vestaboard on the back cover. Watch the video here.