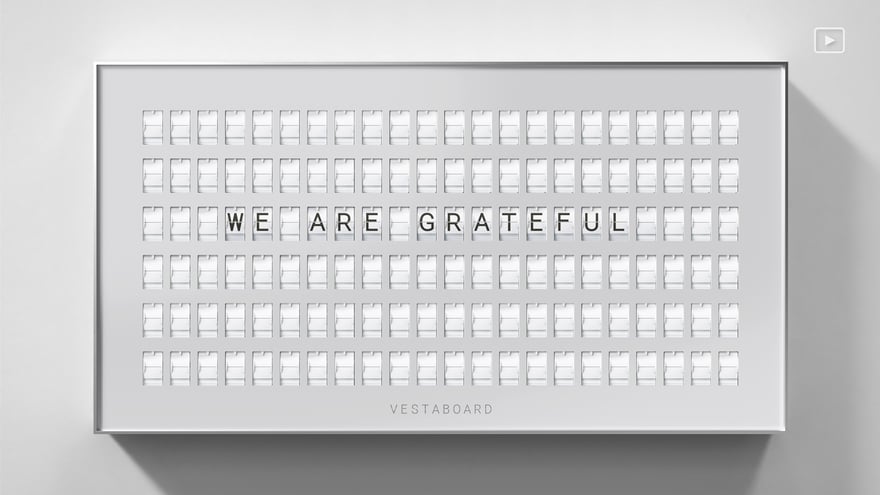 Because of the support and participation of our customers, investors, and followers, through our Inspire Community program we have been able to donate 1 Vestaboard for every 100 sold as an expression of gratitude to those who make a difference.
Meet some of our recipients in the video below.
"Vestaboard fills everyone in our program with wonder and joy," says Friends of the Children Klamath Basin's Program Director Crystal Muno. "Vestaboard has quickly become the highlight of our tiny clubhouse. Each time a youth's name or the day's activities appear on the Vestaboard they feel seen and connected."
Teacher Britny Garcia, who installed Vestaboard in her special education classroom in Arizona, says that what she appreciates most about Vestaboard is "the ability to post a positive message each day that many of my students would not normally see or hear."
John's Crazy Socks, an organization supporting those with differing abilities, says Vestaboard helps them "spread happiness."
And ESL teacher Britney Tard in New Jersey reports that "Vestaboard is a classroom gamechanger!"
Through Inspire Community, people and organizations making a positive impact are nominated to receive a Vestaboard. Recipients include schoolteachers, nonprofits, organizations in underserved regions, children's centers, foster care facilities, and many more.
See more of our Inspire Community recipients' customer stories.
This holiday season, gift Vestaboard to a loved one or to an organization that inspires you – Shop Now.