Vestaboard has won a 2022 Product Design Award. The International Interior Design Association in partnership with Hospitality Design magazine recognizes products that honor innovation, function and aesthetic advancement in the hospitality industry. The Vestaboard team thanks IIDA and Hospitality Design for this recognition. Learn more below, and discover our Red Dot Award, too.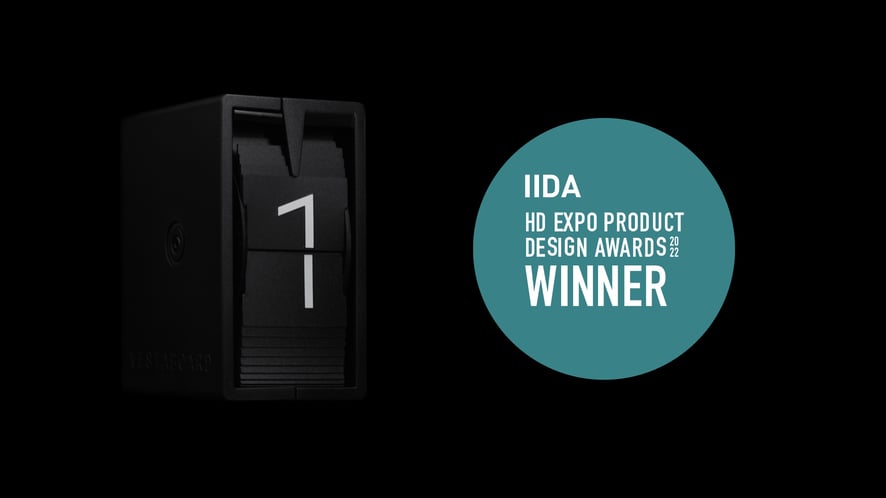 FOR IMMEDIATE RELEASE
April 28, 2022

CHICAGO — IIDA is proud to announce the winners of the 2022 IIDA/HD Expo Product Design Awards. The prestigious competition honored projects that excelled across seven criteria including aesthetics, cost and value, design innovation, environmental responsibility, need, technical advancements, and usage. This year, entries were judged in person by a panel of notable design industry professionals.

"The focus on comfort and connection with the user are key to the hospitality industry's success," said IIDA Executive Vice President and CEO Cheryl S. Durst, Hon. FIIDA. "This year's winning selections offer all of these elements and more as designers, manufacturers, and the industry continue to anticipate and exceed guest expectations."

This year's jury of design professionals included HGA Senior Interior Designer and Associate Vice President Mari Ansera, IIDA, NOMA; Perkins&Will Senior Associate and Senior Interior Designer Mike Johnson II, IIDA; and One Line Design Studio LLC Project Designer Jason Valentin, IIDA.

"We were highly impressed by the winners' unique and compelling concepts in a competitive marketplace," said Ansera on behalf of the jury. "The winning products demonstrate a human-centered approach to innovation by integrating people's needs, technological possibilities, and business acumen."

All winning products, manufacturers, and designers will be highlighted on the Hospitality Design magazine website, on IIDA.org, and to the 400,000+ followers on IIDA and Hospitality Design social media.

ABOUT IIDA
IIDA is the commercial interior design association with global reach. We support design professionals, industry affiliates, educators, students, firms, and their clients through our network of 15,000+ members across 58 countries. We advocate for advancements in education, design excellence, legislation, leadership, accreditation, and community outreach to increase the value and understanding of interior design as a profession that enhances business value and positively impacts the health and well- being of people's lives every day. IIDA.org.

ABOUT HD EXPO + CONFERENCE
HD Expo + Conference attracts the world's most talented and sought-after network of interior designers, architects, hoteliers, restaurateurs, owners, operators, developers, and purchasers. It's where hospitality professionals come face-to-face with the most captivating products and resources to consider for global projects and stay on top of industry news and trends through thought-provoking conference programming, curated by Hospitality Design magazine. HD Expo + Conference is owned by Emerald. www.hdexpo.com

# # #

Press Contact:
Abigail Yonker
Jo Communications
224.330.5114
abigail@jo-communications.com