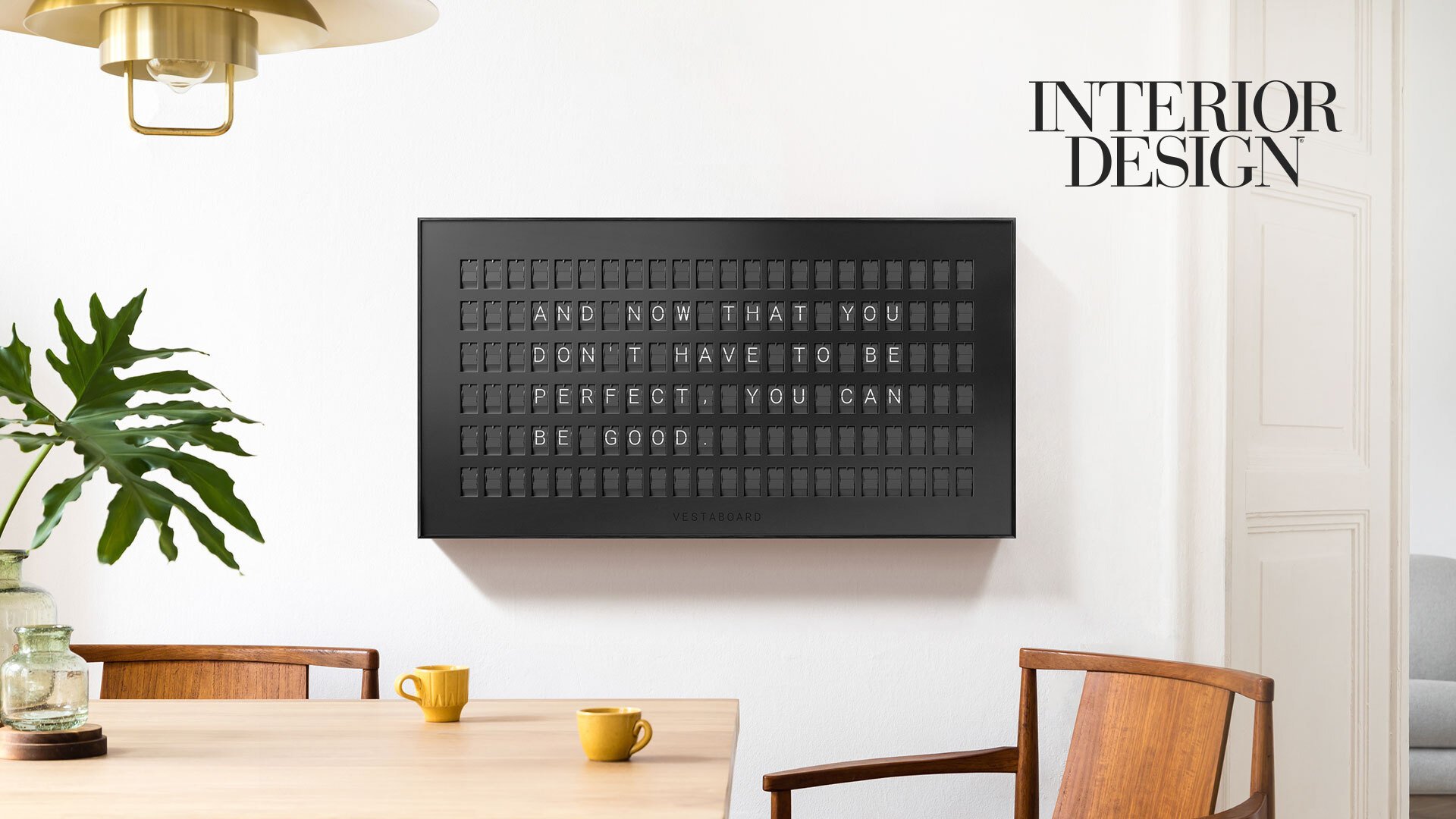 Today, we are excited to share recent coverage of Vestaboard including Interior Design Magazine and The Week. Also, in case you missed it, Cheddar News TV interviewed our CEO and Founder, Dorrian Porter live about the future of Vestaboard. Read more below. Additionally, faster delivery times are here!
Vestaboard Flagship Black is now in stock and ready to ship in the USA/Canada, UK, and Australia / New Zealand; for Europe and Dubai, see shipping times listed: Shop now.
Vestaboard White, in a limited edition of 1000, is now also available for delivery this year in Australia and New Zealand, in addition to the USA/Canada, EU, and UK. Shop now. Other regions, please sign up.
Interior Design Magazine
"Spark moments of connection that get people looking up," says Interior Design Magazine. See how homeowners and businesses are getting the message across beautifully with Vestaboard – read now.
The Week
"The possibilities are endless," reports Catherine Garcia in The Week. "Clear communication is vital, whether it's at home or at work — and the Vestaboard smart messaging display ensures that everyone is on the same page. Use it to share an inspirational quote, shopping list, or schedule for the day… when the message is changed and the flaps start whirling around, it makes a delightful sound!"
Recap: Cheddar News TV
Our CEO and Founder, Dorrian Porter, was interviewed live on Cheddar News TV about the company's exciting future and the recent announcement of $5 million in investment with plans to raise more, as also reported in Yahoo Finance, AP News, Silicon Valley News, Market Insider and more. Watch the replay now.
To learn more about participating in Vestaboard's current fundraise, enter your information.